Der NFT-Analyst Mateen Soudagar prognostiziert, dass die meisten nicht-fungiblen Token-Projekte (NFT) einen Rückschlag erleiden und wahrscheinlich zusammenbrechen werden, wenn der Preis von Bitcoin und Ether auf 100.000 und 10.000 Dollar ansteigt.
Laut Soudagar sind 60 bis 75% der heute existierenden NFT-Projekte Betrug. Ferner geht er von fallenden Preisen aus, wenn die Preise für BTC und ETH fallen.
"NFT-Projekte, bei denen die Leute vor allem aus spekulativen Gründen dabei waren, werden enttäuscht werden. Und sie werden sich möglicherweise nicht mehr erholen."
Soudagar glaubt, dass sich die NFT-Industrie zu mehr "ausgefeilten Spielen und virtuellen Welten" entwickeln wird, aber "Projekte mit geringem Nutzen werden untergehen."
To the moon
Nach der Genehmigung des ersten börsengehandelten Bitcoin-Futures-Fonds (ETF) in den USA kletterte Bitcoin am 20. Oktober auf ein Rekordhoch von 67.000 US-Dollar. Die Benchmark-Kryptowährung hat ihren Wert seit ihrem Tiefstand von 30.000 Dollar Ende Juli mehr als verdoppelt.
Wie das S2F-Prognosemodell (Stock-to-Flow) von PlanB zeigt, erwarten Analysten, dass das institutionelle Engagement den Preis bis zum Jahresende auf 100.000 US-Dollar treiben wird. Ähnlich sieht es bei Ethereum aus, das in den letzten Tagen ebenfalls ein Allzeithoch von über 4.000 US-Dollar erreichte und im vierten Quartal auf 10.000 US-Dollar steigen könnte. In der Zwischenzeit ist der Wert von NFTs in letzter Zeit sprunghaft angestiegen, wobei das Handelsvolumen laut DappRadar 15,5 Mrd. US-Dollar übersteigt, verglichen mit nur ein paar Tausend im Jahr 2017, als der Kauf und Verkauf von tokenisierten digitalen Kunstwerken begann.
Der Sektor wird vom Opensea-Marktplatz dominiert, der ein Gesamtvolumen von 9,5 Milliarden US-Dollar erreicht hat, gefolgt von Axie Infinity mit 2,7 Milliarden US-Dollar. Beide Plattformen arbeiten auf der Ethereum-Blockchain, wie auch die meisten anderen Marktplätze.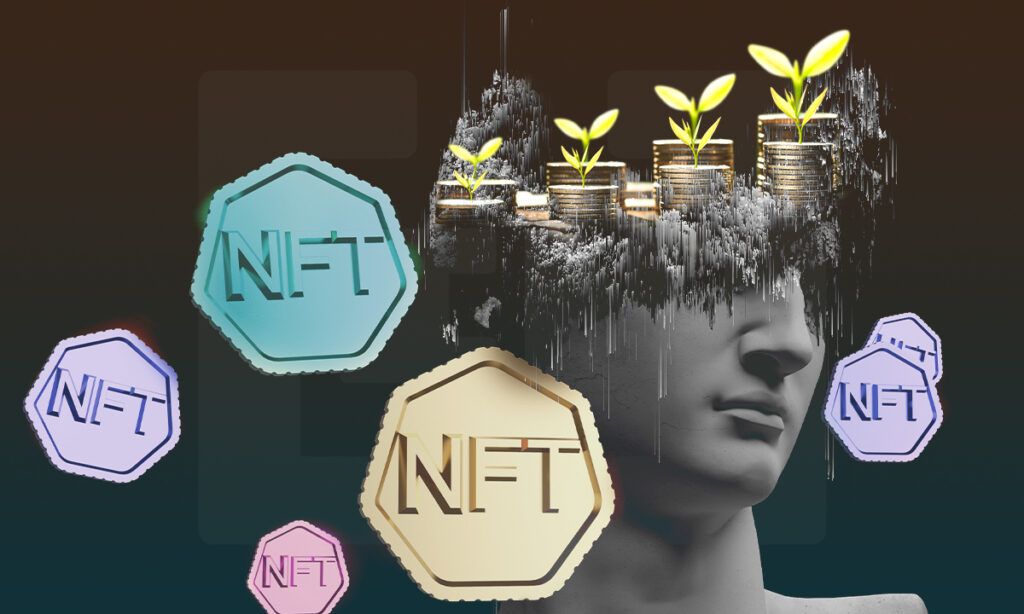 Das Durchhaltevermögen der NFTs
In einem Twitter-Thread zog Soudagar Parallelen zwischen dem Verhalten von Altcoins – im Grunde jeder andere digitale Vermögenswert, der kein Bitcoin ist – und dem von NFTs. Er stellt fest, dass viele NFT-Projekte "der gleichen Stimmung" folgen wie Altcoins – sie fallen stark, wenn Bitcoin eine Rallye erlebt, da das Geld von den kleineren Münzen in BTC fließt.
"Genauso wie Altcoins einen Rückschlag erleiden, wenn Bitcoin oder Ether Allzeithochs erreichen, werden dies auch NFTs tun. Die guten Alts sollten langfristig gut abschneiden. Genau wie bei nicht-fungiblen Token."
Der Investor hat verschiedene Szenarien für unterschiedliche Haltedauern aufgestellt. Er geht davon aus, dass die, wie er es nennt, "guten Projekte" im Falle eines Absturzes der Preise für nicht-fungible Token das Durchhaltevermögen haben werden.
"NFT-Projekte, bei denen die Community/das Team stark ist, [und] die weiter ausgebaut werden, können das Interesse aufrechterhalten. Sowie super seltene/ikonische NFTs haben eine hohe Chance, bärische Wellen zu überstehen und Wachstum zu erzielen."
Allerdings setzt Soudagar nicht alles auf dieses Szenario, sondern spricht auch über steigende NFT-Preise während eines Markt-Crashs. Denn zu Beginn dieses Jahres sahen wir steigende NFT-Preise, die von der Euphorie der Mainstream-Medien angeheizt wurden.
Der Beitrag NFT-Experte: Die meisten NFT-Projekte brechen zusammen, sobald Bitcoin 100.000 USD erreicht erschien zuerst auf BeInCrypto.